GET ACTIVE AND GO GREEN – TRANSPORTATION PROGRAMMING AT SIR JAMES DOUGLAS ELEMENTARY SCHOOL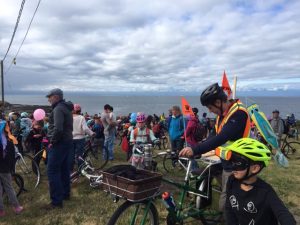 Sir James Douglas Elementary School (SJD) is dedicated to increasing participation in active transportation, as a way to reduce emissions and improve students' overall physical and social/ emotional well-being.
Since 2017 the Active Transportation Committee, made up of parent volunteers, has worked closely with teachers and students at SJD to host 5 successful Walk and Wheel to School Weeks. The consistently high level of student and teacher involvement in these weeks is a strong indication that we are inspiring kids to get active and take action to address climate change. In addition to the participation numbers the impact of these weeks is also evident in overflowing bike racks and growing support from community partners like a local bike shop, a local bike club, the City of Victoria and the Capital Regional District.
Implementation of Transportation Programs
For one week each fall and spring, students and teachers are invited to engage in a range of programmed events aimed at building physical literacy, promoting active travel to and from school, and raising awareness about how to reduce GHG emissions through travel choices.
To date we h
ave organized the following programs and initiatives that have served approximately 500 students:
• Bike Skills and Safety Courses
• Crossing Guards – making it safer for kids commuting on foot or by bike
• Superhero Bike Parade – facilitating a parade of bikers and walkers to school
• Education and Awareness Events – making active travel fun, developing healthy lifestyle habits, and raising awareness about reducing emissions through our travel choices
• School Street – closing a busy street in front of the school to all vehicle traffic, thus encouraging parents to park and walk, or walk or ride from home. We also host a street party on the last day to celebrate our success
• Bike Club – partnering with a local cycling club to organize a 8-week bike club for students
Each year we set an aggressive goal for active travel during Walk and Wheel to School Week. Since 2017 we have achieved great success with over 90% of students reporting that they used some form of active travel to get school.